Joe Lieberman @ Fleetwood Synagogue
The U.S.-Israel relationship is "firm, but it is fraying a bit," according to former Senator Joseph Lieberman, who recently addressed the topic in a public conversation at The Fleetwood Synagogue with Allen Fagin, executive vice president of the Orthodox Union.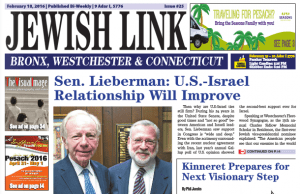 He placed his comments in the context of the personal dynamic between American and Israeli leaders, the Iran deal, the peace process and demographic shifts within the United States.
Though under President Obama, military and security cooperation has been "as good or better than ever," the personal dynamic between him and Israeli Prime Minister Benjamin Netanyahu is "not so good… They have very different views." Read more..
About Fleetwood Synagogue
Fleetwood Synagogue is located in the village of Fleetwood (Mount Vernon), midway between the communities of New Rochelle and Riverdale.
We are proud to have an eruv, daily minyan, regular shiurim and exciting special events, all in a friendly atmosphere with a small-town feel.
The commute to Manhattan is a quick, 25-minute train ride from Fleetwood's own Metro-North Railroad station to Grand Central Terminal. We hope that you find our website helpful – please browse, and feel free to contact us if you have any questions. We look forward to hearing from you!
You can find housing of all types in Fleetwood, from stately colonials to co-ops to rental apartments.