The Fleetwood Synagogue is getting a new rabbi. After serving the Fleetwood community for 15 years, Rabbi Gedalyah Berger is pursuing other opportunities and Rabbi Daniel Rosenfelt will be assuming responsibility as the senior rabbi of the growing shul in this small Westchester town.
After a rigorous selection process that lasted at least seven months involving the review of more than 20 candidates,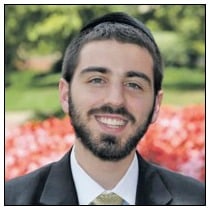 Rabbi Rosenfelt was selected by a committee and the community. Growing up in Baltimore, he was involved in an unlikely role for a current pulpit rabbi: sports radio. While in high school and thereafter, Rabbi Rosenfelt was an interviewer for 1090 WBAL, the Baltimore Orioles and Ravens flagship. He also freelanced for the Baltimore Jewish Times.
So what brought him to the rabbinate? When he attended yeshiva in Israel for a year, he had a "tremendous experience" at Yeshivat Lev HaTorah in Ramat Beit Shemesh, which steered him into more Jewish-focused pursuits. He studied psychology at Towson University, but his drive to work in Judaism brought him to Ner Israel's Rabbinical College's smicha program while he simultaneously completed a Masters of Arts in pastoral counseling at Loyola University.
After school wrapped up, Rabbi Rosenfelt served as the assistant rabbi in Baltimore at the Suburban Orthodox Congregation Toras Chaim. While living in Baltimore, he also trained at the chaplaincy program offered by Johns Hopkins University, served as the director and primary instructor for senior Jewish learning at the Etz Chaim Center and was a rabbinic consultant as part of a federal grant with CHANA, the city's domestic violence program.
Rabbi Rosenfelt's move up north came with an offer to join the Young Israel of Holliswood community, where he was the shul's associate rabbi. He also taught junior high classes at the Yeshiva of Central Queens, a position he will be continuing during this academic year as well. His wife, Amanda, will continue to work at her role at the Bais Yaakov in Queens while also running the American office of Bnot Torah, Sharfman School for Girls, as its financial director. Of their time in Queens, Rabbi Rosenfelt said, "We really enjoyed our time there in Queens. The community has been amazing to us."   Read more >>>
About Fleetwood Synagogue
Fleetwood Synagogue is located in the village of Fleetwood (Mount Vernon), midway between the communities of New Rochelle and Riverdale.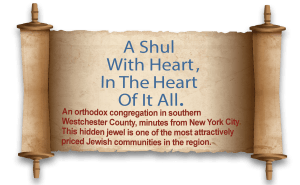 We are proud to have an eruv, daily minyan, regular shiurim and exciting special events, all in a friendly atmosphere with a small-town feel.
The commute to Manhattan is a quick, 25-minute train ride from Fleetwood's own Metro-North Railroad station to Grand Central Terminal. We hope that you find our website helpful – please browse, and feel free to contact us if you have any questions. We look forward to hearing from you!
You can find housing of all types in Fleetwood, from stately colonials to co-ops to rental apartments.